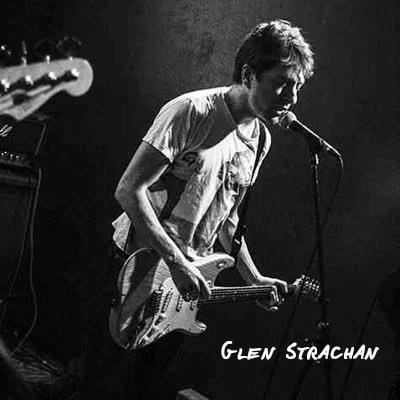 Glen Strachan is an extremely attractive (see pic), peripatetic musical artist, currently fronting London based outsider-core band Jeeps:

"A great band that actually does not have to hide in the underground. However, as we already know, DIY Man Glen Strachan seems to feel right at home there."

He still hacks away at this website in HTML so shaddap.













Solo Work
2007 - Present



Various solo projects & albums have been released, starting with The Speed of Sneeze in 2007. Long-term solo project The Love Rivals is an ongoing work based around 36 character portraits crafted in celebration of the individual. It's a story unfolding across various cities and timezones and consists conceptually of 36 character portraits of people who, at first glance, appear to be 'wired differently' from the rest of us. The piece follows some of their stories as they interact or fade out from the consciousness of the writer & narrator.

The collection is being presented in 8 instalments, beginning with 8 Love Rivals released in 2009. The fourth album in the series, 5 Love Rivals, is due for release any day now.

Ultimately the work is unfolding as a self-portrait, as told through a glimpse into the lives of myriad others.

_______________________________________
Glen Strachan can pull art-pop masterpieces out the ether like you wouldn't believe.
My London

Abstract, arty, and emotive in equal measure, 8 Love Rivals also manages to be melody-rich and lyrically intriguing at all times.
Steve Rudd, This Is Ull

Some of Leonard Cohen's poetic introspection and folksiness in the lyrics, a bit of wry darkness, enough catchy poppiness to be accessible - all is amalgamated into something quite new.
A Future In Noise

I love this, it's a beautiful song, it's fun, it's endearing!
Warren Huart

He can cut through the artistic fluff but he is also pure Art itself. In another life, on another island he would be a pictorial Dora Maar, a split personality that both weeps and dazzles through its intense colour.
Alban Low (artist)

Always striving for something new, the quirky semi-legend, either solo or with his ever revamping band Jeeps, has mastered the art of songwriting.
Get West London


Cruises to the Holy Land
2016 - Present



Cruises to the Holy Land suggest a sound far removed from the current indie climate, with bold use of vocal harmony, innovative, angular guitar work, acoustic piano passages, modern electronic production & traditional folk instrumentation such as the dulcimer & the bouzouki. Words are given at least as much attention as music by Cruises' who pick up the baton from Dylan & Cobain with a dreamy, often abstract approach to the lyric form.

Single A New Coastline out now, full album soon.

_______________________________________
My god this sounds like a lost 60's psych record, all fuzzy production, lost vocals and heavenly voices. Hard to believe it is a modern day creation.
MP3 Hugger


JEEPS
2011 - 2021



Jeeps is a London-based indie band that formed in 2011 in Berlin. Jeeps' unique sound combines improbable songwriting with post-punk energy, adorned with polished, complex harmonies & ethereal dream pop elements burnt up in fuzz.

Jeeps put together ambitious and financially hopeless DIY tours in the UK and the rest of the world, playing everywhere from little mountain villages in northern Italy to punk basements in Berlin to Webster Hall in New York, rehearsing on trains and sleeping in cars.

Jeeps' debut album Muster Point was released on Straw Port Records in early 2016.

_______________________________________
Eclectic London-based folk group with elements of post-punk sounds and complex compositions.
Evening Standard

Buzzing, scratchy alternative rock paired with hymnic pop-punk tunes.
Gerdas Tanzcafe (German Magazine)

Avante-garde. Experimental. Whatever it is, Jeeps' take on Alt-Rock is ingenious.
The Revue

They are the fence to scratch an irritated hide against and the branch that wears against its kin, perhaps the self harm of Nature itself..
Art of Jazz

They've taken traditional pop music back from the saccharine precipice of vacuous nonsense and reinstalled quirks, grime and reason into the program.
Hughie Dixon, Hayes FM

With roots in Berlin & Stockholm, Jeeps unique sound combines traditional folk song writing with post-punk energy, adorned with polished, complex harmonies & ethereal dream pop elements.
The Elgin



England & The April
2005 - 2007



After the break up of The Bed, work immediately began on a new musical project titled England & The April, who played their first show at the Dublin Castle, Camden Town, in April 2005. The line-up was Glen Strachan (Vocals, Guitar), Jae Kerwood (Drums, Vocals) and Rachel Thomas (Bass, Vocals). Working with two classically trained musicians led the band to explore harmony-rich, textured, elaborate song structures and interest in the band grew slowly until Jae quit the band as a drummer in 2007. He stayed on as a keyboard player, adding his harmony vocals, and Omar from The Bed returned to fill in on drums. Three albums were released in the short time the band remained together, Safety In Cucumbers (2005), The Ghostcone Trilogy (2006) and Sticking Up For Pluto (2007).

___________________________
England & The April take pop, punk, psychedelia and folk sounds, then compact them into dreamily haunting harmonies. Fused into the gems are elements of Velvet Underground, Fairport Convention and acoustic Stone Roses. Live performances are rare, as the band are obsessed with polishing each song until it sparkles.
Ents24.com

From hard-cracked rock compulsion to jazzy romps and trickles, from breeziness to thunderstorms, from country and western playfulness to light tumbles with ringing high-hats. The bass wanders through the calm moments with warm purring sounds, and pumps big hooks through the rock and grunge episodes.
Opposition T



The Bed
1999 - 2004



The Bed formed in 1999, with Chris Gordon playing bass, and a Sony Playstation running Music (software) as a drum machine. This line-up played a debut show at the Acoustic Cafe in Soho, hoisting a small television set onto the drummers stool from which to view operation of the drum tracks. Omar Mansur was in attendance, and after an impromptu band meeting in WHSmith the band decided to play the next show as a 3-piece, with Omar behind the kit. The Bed recorded a lot of independent demos which received a mixture of reviews in the underground media, before finally releasing debut single Soma Riot Wave Machine in 2003, confusing the industry and fans alike with its bare bones, stripped down punk production and stark songwriting. The single sold only a few hundred copies and the band broke up shortly afterwards, in the summer of 2004, having played shows with The Futureheads, Scouting For Girls, Special Needs, The Boxer Rebellion, Miss Black America, and many other successful acts of the time. Managed by Robert Pereno, (The Promoter), The Bed regularly appeared on TV station Where It's At, and toured extensively throughout the UK. Demo recordings by The Bed, released posthumously, met with higher regard than the ill-fated Soma Riot Wave Machine.

___________________________
Raw energy collides with melodic, emotive songwriting.
Picadilly Records

The Bed wrap up warm with a dose of Morrissey and Nirvana and produce a fine grungey, rockin' sound.
Kings Head Promotions

Very worthy and all that, but not pretty-sounding.
NME

They can be delicate, they can be angry, they can be thrilling, they can be messy, they're well worth your time.
Organart / Org Records

Honestly they have all the makings of a great cult band, and cult status doesn't mean commercial success, which means disposable at the moment..
Anonymous Industry Mogul